This past weekend, the two of us threw a very special baby shower. Special because it was in honor of our sister-in-law Meagan who is carrying a new little niece or nephew for us to spoil come August! We had a great time planning this shower and immediately settled on the gender-neutral color palette of yellow, white, and gray. We wanted to do a shower that felt modern and beautiful at the same time. We set the tone by sending out invitations announcing that "A New Little Birdie Joins the Nest..." (We will post on the invitations in the next week---need to take pictures first!) The theme was a loose "birdie" theme---but we wanted to keep the feel of the party fresh and adult, not overly babyish, because our sister-in-law is very chic!
The two of us both live two hours away (in opposite directions) from where our sister-in-law lives, so we were presented with the challenge of planning a shower in a town where neither of us lives. That meant that we had to be organized and everything had to be toted into town with us, with the exception of the rentals which we had delivered. We held the shower at our dear Aunt Joan's house. We are lucky to have a few amazing aunts in our lives (we know most people would be lucky to just have ONE amazing aunt, but we have several!) We had a great time setting up with Aunt Joan---the three of us did a lot of giggling and just enjoying each other while we got ready for the party.
First up, flowers. We decided to do arrangements inside of birdcages in keeping with our "birdie" theme. The four large arrangements were done for us by
Tulip Floral Design Studio
in Visalia. If you live in the Fresno-Visalia area and are looking for someone who does
uh-mazing
work with flowers, you
need
to check out
Tulip
. Rachel and her team are true artists and the large arrangements came out beautifully. Even when I (Kari) was a bit scatterbrained about explaining my vision, Rachel caught the idea and ran with it---and the outcome was truly beautiful! Check out her work below:
There were about 25 guests at this shin-dig, and we decided on a long banquet-style table for lunch. Smaller birdcages ran the length of the tables (we put together the small arrangements inside these birdcages from some cheapo Costco flowers we got the night before. Gotta love Costco flowers!) The fabric is from Amy Butler's Midwest Modern line. (
Love it
.)
Each place-setting had a gray-striped paper napkin (Ikea!) on it along with a favor: A gray box filled with Dutch mints, adorned with a cute ribbon-and-bird medallion.
We tucked extra little arrangements around the yard, wherever people might linger or sit for a while...
Even though it was a baby shower, we are a strong believer that champagne is for every occasion. We set up a drink station with champagne and assorted juices: O.J., lemonade, blood orange juice, pomegranate, etc. Guests could have whatever concoction they desired!
As the temperatures decided to get really warm just in time for this shower, we provided paper parasols for "instant shade."
We must admit, we aren't big fans of games at showers. Perhaps there are some great games out there...but both of us have been asked to play some very tacky games at baby and bridal showers. We are a bit traumatized by some of these "games," we'll admit...
So, instead of doing games, we decided to do a different activity. One of the grandmothers,
Babs, is in Liberia
. We were very bummed that she couldn't be at the shower, but we found a fun way for her to be involved! Grandma Babs wrote a fun little story, using the letters of the alphabet. We printed the pages up with block letters and asked everyone at the shower to decorate a page with a letter---and we will be having everyone's artwork turned into a board book for the baby! We thought that this would be a fun way for Meagan to remember who was at her shower, and it also makes a fun keepsake for the child.
Now, we must admit, the board book idea is not really our original idea...it comes from Kari's husband's cousin Amber, who recently introduced this idea at a shower for Kari's sister-in-law Jennie (confused yet?:) Anyway, if you are interested in creating your own board book for a shower or for a child, you really should check out
Amber's website here
. (Lots of great ideas there---thank you, Amber for the excellent shower idea!) We were amazed at how seriously the guests took their artwork---Meagan will have a beautiful book! (We will post more on the book when it's finished, by the way.)
Anyhoo, we set up this little desk with craft supplies on it so people could work on their pages: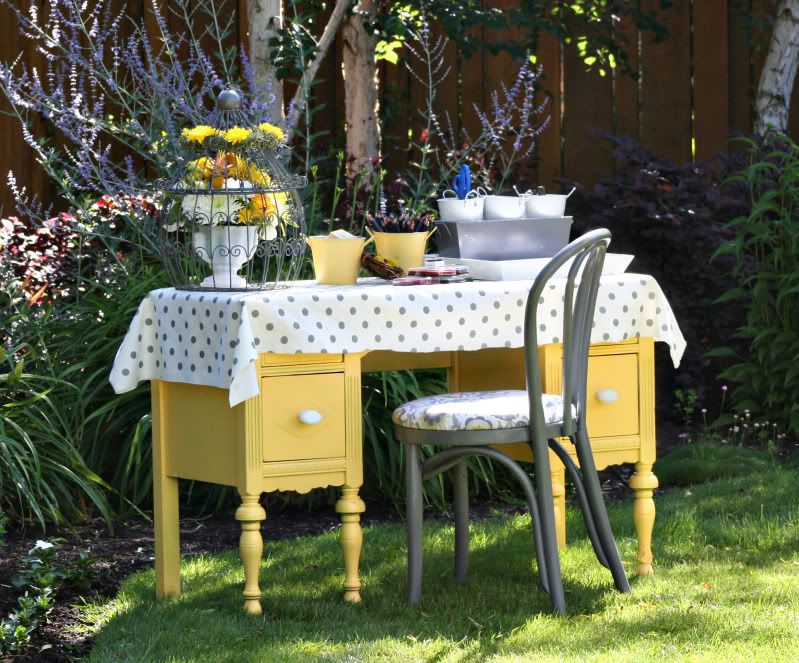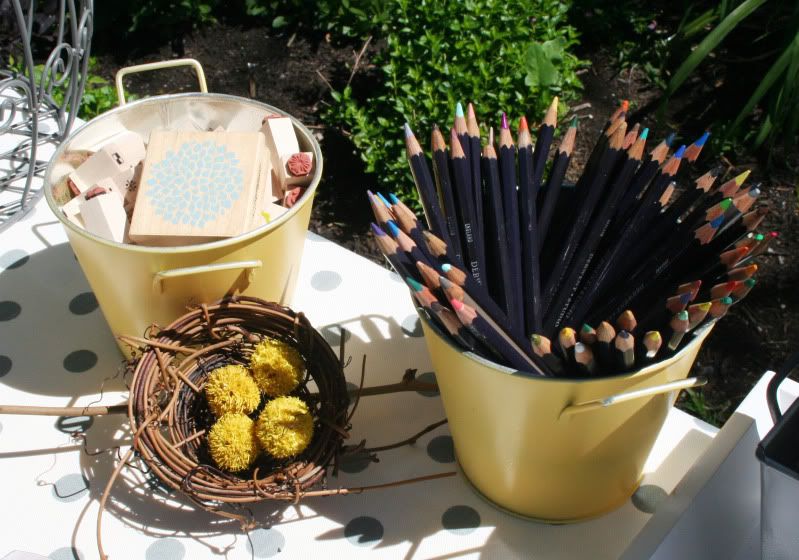 Lastly, we set up a fabulous cupcake table. Kari's friend Becky did the cupcakes and they were amazing. Seriously, sinfully good! (If you live in the Fresno area and are looking for someone to do cupcakes for an event, contact me and I'll hook you up with Becky. She is super-talented!)
Oh, and those super-cute cupcake wrappers are from
Olivia's Paper Shoppe
. (Check out the site for great cupcake wrappers for your next party!)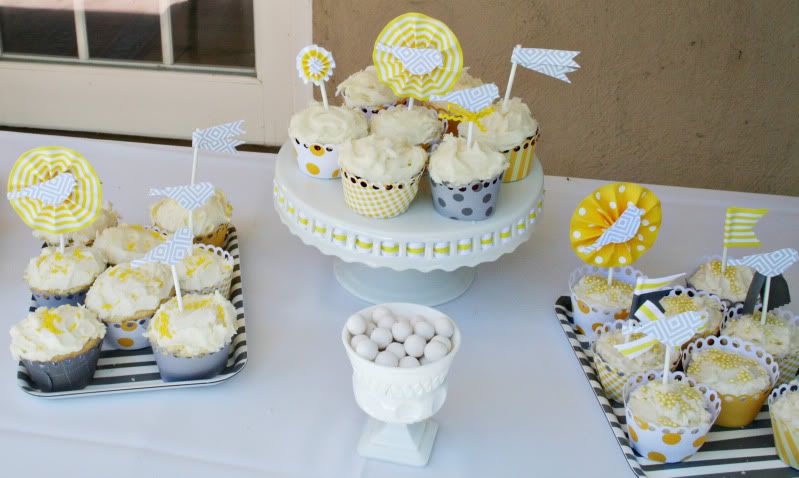 Most importantly, Meagan had lots of these to open: